Coming To Colombia? Get a Visa!
ColombiaTips.com is a chatting, dating and match making site. We do not connect parties for sexual acts. We simply connect two adults for friendship, dating, or entertainment purposes.
If you wish to visit Colombia, you may need to apply for a visa for Colombia.
Colombia is a place worth visiting, especially if you are a nature lover. This South American country is known for being the second most biodiverse in the world. The friendliness of its people, its beautiful architecture and culture, as well as its delicious food and sunny beaches, are also great reasons to visit Colombia.
This article details Colombia's visa policy, including requirements, who needs one, as well as the application process.
Countries That Need a Visa
You need a visa for Colombia unless you are from one of the countries listed in the table below. Nationals of these countries may enter and stay in Colombia without a visa for up to 90 days:
European Union citizens
Albania
Andorra
Antigua and Barbuda
Argentina*
Australia
Azerbaijan
Bahamas
Barbados
Belize
Bhutan
Bolivia*
Bosnia and Herzegovina
Brazil*
Brunei
Canada
Chile*
Costa Rica
Dominica
Dominican Republic
Ecuador*
El Salvador
Fiji
Georgia
Grenada
Guatemala
Guyana
Honduras
Hong Kong (up to 180 days)
Iceland
Indonesia
Israel
Jamaica
Japan
Kazakhstan
Liechtenstein
Marshall Islands
Mexico
Moldova
Monaco
Montenegro
Micronesia
New Zealand
North Macedonia
Norway
Palau
Panama
Papua New Guinea
Paraguay*
Peru*
Philippines
Qatar
Russia
Saint Kitts and Nevis
Saint Lucia
Saint Vincent and the Grenadines
Samoa
San Marino
Serbia
Singapore
Sovereign Military Order of Malta
Solomon Islands
South Korea
Suriname
Switzerland
Taiwan
Trinidad and Tobago
Turkey
United Arab Emirates
United Kingdom
United States
Uruguay*
Vatican City
Venezuela*
If you are from one of the countries mentioned above, you can request permission to stay in Colombia for an additional 90 days. This means you can stay up to 180 days without a visa. You cannot apply for a second extension.
Entering Colombia with another type of visa
If you are from one of the following countries, you may enter Colombia without a Colombian visa for up to 90 days, if you already have a short-term visa or a residence permit issued by a Schengen country or the United States:
Cambodia
China
India
Macao (up to 180 days)
Myanmar
Thailand
Vietnam
The visa/residence permit must be valid for at least another 180 days from the date of arrival.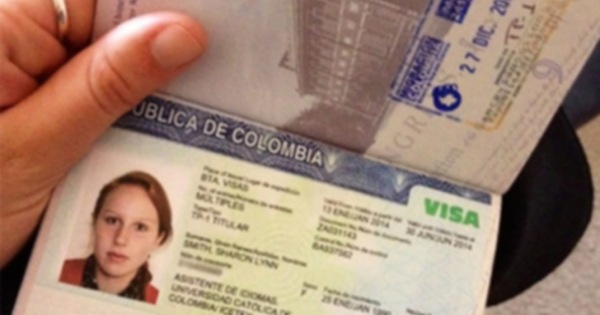 Do I need a visa to transit through a Colombian airport?
If you are going to transit through a Colombian airport, you do not need an airport transit visa if:
Your connecting flight is in less than 24 hours.
You are not leaving the international transit area of the airport.
You have all the necessary documents for your next destination.
Note: This waiver does not apply to citizens of Cuba or passengers with a Palestinian "Authority" passport.
If your connecting flight is more than 24 hours away and/or you intend to leave the international transit area of the airport, you must apply for a Colombian short stay visa.
Documentation required for your Visa
When you apply for a Colombia visa, you must submit several documents, such as:
Your valid passport. You must make a copy of:

The main page of your passport (holding your biographical information).
Previous Colombian visas (if any)
The last stamp of entry or departure from Colombia (if any)

Passport size picture of yourself, with the following requirements:

Dimensions: 3 cm x 4 cm
No larger than 300 KB and in JPG format (for online application)
White background
Taken in the last three months
Entire face must be visible

Bank statements from the last six months (as proof of financial resources)
Travel itinerary and airplane ticket
Proof of accommodation/address in Colombia.
If you are visiting a family member/friend: Proof of family relationship or an explanation of your relationship.
If you will attend or take part in an event or activity: Details of the event/activity, the program and agenda, duration, etc.
If travelling for business: The letter of invitation from the company, details of what you will do there, and the company's registration documents.
If you will be doing training or a course of study: The certificate of enrollment/acceptance.
Any other documents as requested by the Colombian Consulate or Immigration Authorities.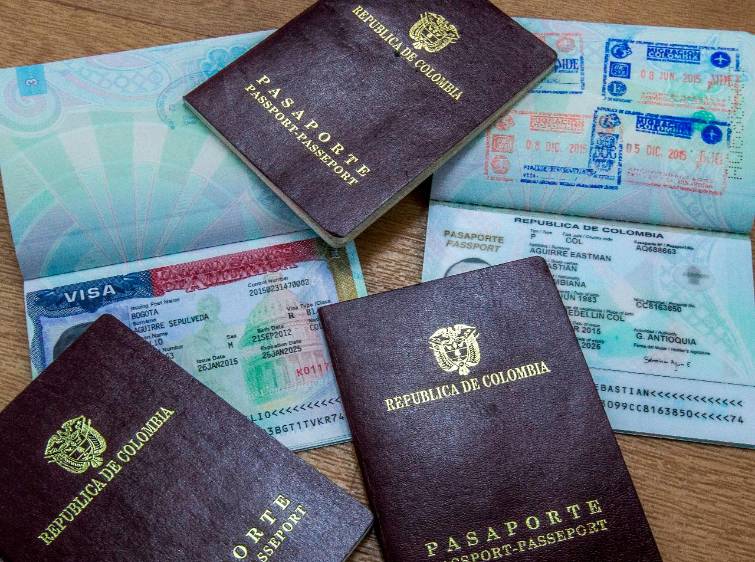 You should also know:
All documents have to be in Spanish. If they are not already, you must have them translated by a translator certified by the Colombian government.
You have to legalize your documents through an Apostille stamp before you submit them. If you are not from a country included in the Apostille Convention/Treaty, you have to notarize your documents before a public notary and then go to the Colombian Consulate to have them signed.
Types of visa for Colombia
There are three main types of visa for Colombia:
Colombia visitor visa (V), also called tourist visa.
Migrant visa for Colombia (M)
Colombia Resident Visa (R)
These types of visas have their own subcategories depending on the purpose of travel.
Colombia 
Visitor

 Visa – 

Guest

 (V) Visa

The Guest (V) Visa for Colombia, too alluded to as a Colombian Traveler Visa, is issued to nonnatives who will remain in Colombia for a brief period of time. It is issued for the taking after purposes.
Tourism and leisure activities
Airport transit
Business
Taking part in a short-term academic exchange program, training, or other educational courses such as an internship.
To seek medical treatment (or accompany someone who is undergoing medical treatment)
For work in a company as an inter-corporate transferee
To foreigners entering under the working holiday program
To volunteers in human rights projects or development cooperation projects
To foreign journalists
The Colombia Guest Visa is ordinarily issued for a most extreme of 90 days, but can moreover be issued for up to two a long time in certain cases. The choice is up to the Consular or Movement specialists taking care of your visa application.
Colombia 
Migrant

 (M) Visas

 The Colombian 

Migrant

 Visa is issued to 

nonnatives

 who 

expected

 to live in Colombia for a longer period of time or set up a 

brief

 or 

changeless

 

home

. The 

Vagrant

 Colombia Visa can be issued for a 

greatest

 of three 

a long time

 and is renewable.
The types of the Colombia Migrant Visa are
Colombia Marriage Visa. Issued to the spouses or registered/long-term partners of Colombian residents or citizens.
Colombia Work Visa. Issued to foreigners who have found a job in Colombia.
Colombia Student Visa. Issued to foreigners who have been accepted into a Colombian educational institution or academic program.
Colombia Investment Visa. Issued to foreigners who invest a substantial sum in Colombia, which is equal to approximately 350 times the minimum wage in Colombia.
Colombia Retirement Visa. Issued to elderly foreigners who want to retire in Colombia and have the necessary financial means to cover for themselves.
Colombia Religious Visa. Issued to religious missionaries.
Colombia Refugee Visa. Issued to foreigners who are seeking refuge in Colombia.
Colombia 
Resident

 (R)

Visas The 

Inhabitant

 Visa for Colombia is issued to 

remote

 nationals who 

satisfy

 one of the 

taking after

 

necessities

:
You have had a Migrant Visa continuously for at least four years.
You have a Colombian child.
You are reclaiming your Colombian nationality. If you gave up your Colombian citizenship previously, you can apply for a Colombian Resident Visa if you wish to return.
You invest a substantial sum of money in Colombia.
The Colombia Inhabitant Visa is issued for five years time at a time and can be reestablished.
How to Apply for a Colombia Visa?
You 
got to
yield
 your application for the Colombia visa through the online application 
benefit
accessible
 on the Colombian 
Ministry
 of 
Foreign
Affairs
 . Enter your 
title
, nationality and 
visa
 number to 
begin
 the application 
handle
. Make 
beyond any doubt
 you 
wrap up
 the application in 30 minutes or the session will 
lapse
. The steps are as 
takes after
:
Complete the online Colombia visa application form. Answer the questions carefully and truthfully. Questions include your nationality, purpose of visit, address in your home country and the address where you will stay in Colombia, whether you have had any previous visas issued or rejected for Colombia, etc.
Select the type of visa you are applying for.
Attach an electronic copy of the visa photo.
Attach PDF files of all the required documents.
Select the Colombian Consulate where you want to submit your application.

Note: If you are applying from within Colombia, you have to select the Ministerio de Relaciones Exteriores (Ministry of Foreign Affairs) office in Bogotá as the location for visa application.

Select the method of payment for the Colombia visa fee. See the options of payment listed below under "Colombia Visa Fees".
You will be notified via email about the status of your visa application. If your application was approved:
Go to the Colombian Consulate or the Ministry of Foreign Affairs office in Bogotá to receive your visa.
After You Arrive in Colombia
Once you 
get
 your Colombian visa, you must visit the 
neighborhood
migration
specialists
 (Migración Colombia) to 
enlist
 your 
remain
. You must do so 
inside
 15 days of entering the 
nation
. 
In case
you're 
as of now
 in Colombia, 
enroll
 your 
remain
inside
 15 days of receiving your visa.
If
you're 
staying for longer than three months, 
you may
 get a 
Nonnatives
 ID Card (Cedula de Extranjeria) after you register.
There are
Movement
Workplaces
 in most major cities in Colombia.
How Long Does It Take to 
Prepare

 a Colombia Visa Application?

The Colombia visa application is

prepared

 in 

around

 5 working days but can take as long as 30 days 

on the off chance that

 there are any 

abnormalities

 or 

lost

 

records

. Make 

beyond any doubt

 to apply 

adequately

 in 

progress

 of the time you 

expected

 to travel.
What Is the 
Term

 of a Colombia Visa?

The

length

 of a Colombia visa depends on the 

sort

 of visa 

you have got

 as well on the 

choice

 of the Consular or 

Movement

 

Specialists

. As such:

 Colombia 

Guest

 Visas are issued for up to 90 days. In certain cases, they can be issued for longer than 90 days, but no more than two years. Colombia 

Transient

 Visas are issued for up to three 

a long time

 at a time and can be renewed. Colombia 

Inhabitant

 Visas are issued for five 

a long time

 at a time and can be 

reestablished

.
Tags: