Top 5 Historic Places in Medellin
ColombiaTips.com is a chatting, dating and match making site. We do not connect parties for sexual acts. We simply connect two adults for friendship, dating, or entertainment purposes.
Medellin has a lot of historical places, squares, parks, museums and other unique attractions that you should visit.
In today's blog I not only want to show you some of these places, but also motivate you to make your own visit or one guided by me so you can get to know the best of the paisa culture.
These are the 5 historical places that you must visit in the city.
Comuna 13
Comuna 13, a neighborhood with a tragic and violent past where hundreds of people were killed by guerrillas, paramilitary groups, the government's dirty war and drug gangs such as Pablo Escobar's Medellin Cartel.
Has managed to overcome all these adversities thanks to the work of its people and transform it into the most essential place to visit in Medellin.
Located on a mountainside, this neighborhood of humble people and houses has been filled with color and joy thanks to its beautiful graffiti that adorn its walls and have made it a great tourist attraction.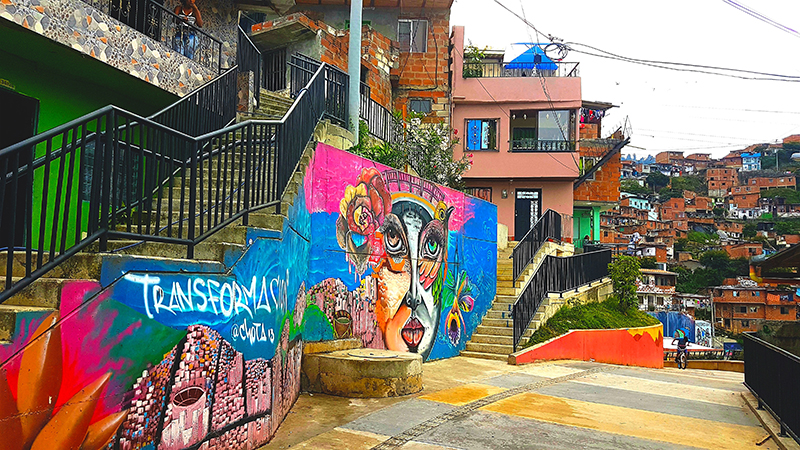 Plaza de Botero
One of the best things to do in Medellín is to have your picture taken in each of the amazing and voluminous sculptures of the Plaza de Botero.
These 23 bronze sculptures donated by Fernando Botero, the most universal Colombian artist next to Gabriel García Márquez, turn this square into an authentic open-air museum.
Here you will also find two of the most essential buildings to see in Medellin: the Rafael Uribe Palace of Culture and the Museum of Antioquia, which we advise you not to miss.
Metro Cable San Javier
Before or after the tour of Comuna 13 we recommend you to take the Metrocable on the top floor of the San Javier metro station.
See from the air neighborhoods and communes like 7 (Robledo) and 13 (San Javier), we can assure you that it is one of the best things to do in Medellin.
Thanks to this metrocable and others in the city, thousands of locals have improved their quality of life by being the only means of public transport possible to access the highest parts of these areas full of narrow streets and houses built without any kind of order.
Museo de Antioquia
The Museo de Antioquia, located on one side of the Plaza de Botero, is the most important museum to visit in Medellín.
In this museum located in the former Municipal Palace of art deco style and with two interior courtyards, more than 100 works (mostly paintings) of Fernando Botero are exhibited on the third floor in addition to some of several international artists.
Another of the most interesting things to do in Medellin to learn about its tragic history of violence and drug trafficking is to visit the Casa de la Memoria, which gives a voice to the victims of the conflict about their memories and teaches not to forget the past so as not to repeat it.
Parque de Berrío
Berrío Park, located in the heart of the city, is the main square to see in Medellín.
With a statue of the politician Pedro Justo Berrío in the center, this square has in the Basilica of La Candelaria of 1659, the first church of Medellín, its most important building.
In addition, in one of the corners is the sculpture of La Gorda by the master Botero and in another corner the sculpture of El Desafío, by Rodrigo Arenas Betancourt.
This square was our first contact with the city and certainly has a lot of atmosphere with street vendors and locals chatting animatedly.
Although it is not the safest area of the city and we recommend not to show valuables or visit it at night.
Tags: